After a series of life-threatening situations, Abdul Baryalai and his family knew they needed to leave their home country of Afghanistan.
"That was the only solution to keep myself [and my family] alive," he says.
Through the Special Immigrant Visa program, the Baryalais were able to choose where in the United States to relocate. For Abdul, the decision was easy: Utah.
"A friend of mine had already been living here for a year and told me a little bit about the environment and how friendly Utahns were," he says. "[My friend] encouraged me to come to Utah, and if I do not like it, I may choose to move to a different state." Click for more
Utah Advanced Manufacturing and Materials Initiative (UAMMI) Opens Diversity, Equity, Inclusivity, Belonging, and Accessibility (DEIBA) Discussions
On January 9, the Utah Advanced Manufacturing and Materials Initiative (UAMMI) hosted a roundtable on Diversity, Equity, Inclusivity, Belonging and Accessibility (DEIBA). Officially titled "Opening the Dialogue on DEIBA for Advanced Manufacturing Industry," the event featured speakers from organizations representing underrepresented populations as well as members of Utah's advanced manufacturing community. Honored guests included Matt Boghossian, Executive Director of the American Manufacturing Communities Collaborative; Beth Colosimo, Project Director of the Utah Minority Business Development Agency, Steve Black, Director of the Utah – MEP Alliance, and Dr. Angela Trego, UAMMI's Diversity, Inclusion and Belonging Specialist. Held at Davis Technical College, the roundtable was a first step in what UAMMI Executive Director Dr. Tulinda Larsen foresees as a series of further conversations on DEIBA. As Dr. Larsen stated in her introductory marks, "It's time we as a society step up to greater efforts in the area of DEIBA."
The first half of the discussion was dedicated to the organizations representing underrepresented communities, while the second half featured presentations from the advanced manufacturing business participants on the ways they address DEIBA. A networking break offered an opportunity for attendees to speak one-on-one.
The groups that presented on behalf of underrepresented communities in the first session were:
Equality Utah, the state's largest Lesbian, Gay, Bisexual, Transgender, and Queer civil rights organization;
Columbus Community Center (and Columbus Foundation), serving mentally disabled Utahns;
The Utah Women & Leadership Project, based at Utah State University, whose mission is to strengthen the impact of the state's girls and women;
Suazo Business Center, a non-profit dedicated to the development and empowerment of Latino/Hispanic and other underserved communities;
Go Utah's Office of Immigration and New American Integration, which focuses on the process of advancing economic mobility and social inclusion for New Americans.
Utah Black Chamber, an organization dedicated to improving Utah's business community by connecting resources among the state's minority owned businesses;
Utah Hispanic Chamber of Commerce, the benchmark organization for Hispanic businesses in Utah.
These organizations engage in a wide and sometimes surprising array of activities that benefit both their focus communities and Utah businesses. One example is the training offered by Equality Utah to make workspaces better and more inclusive. Executive Director Troy Williams explained that the core of the training is about recognizing and being vocal about the different perspectives that exist in any given company. It is the "diversity of viewpoints" which makes organizations strong, not simply "ticking a box about ethnicity or sexuality." Mr. Williams mentioned they that Equality Utah has received nothing but positive feedback on the ability of his training to help organizations grow through the great diversity of their people.
Kristy Chambers, CEO of Columbus, broadened attendees' understanding of issues affecting the disabled, such as inclusion and accessibility. Many people on the autism spectrum, for example, do well with detailed or repetitive tasks, but might need a quiet environment in which to work. While that is likely a reasonable accommodation, that need is not as evident to employers as a wheelchair ramp is for a mobility challenged individual. This is exacerbated by the fact that those with non-visible disabilities are fearful of disclosing their condition. However, when given the opportunity, employers are rewarded with loyal employees who learn their tasks quickly and excel at them. Ms. Chambers pointed out the importance of employers increasing accessibility for the mentally disabled to help foster a greater labor participation rate for the community.
Training and events are a big part of the Utah Women & Leadership Project's (UWLP) activities, but it also focuses on conducting research that Utahns can rely upon when evaluating the state's performance on women. The Project monitors national reports that rank Utah in comparison to other states, ensuring that the condition for the state's women is accurately portrayed and highlighting those areas where the Utah is making strides as well as those where it can continue to improve. Dr. Susan Madsen, Founder and Director of the Project, highlighted its "What Can I do Series" as a resource for Utah businesses interested in supporting Utah's women and girls.  
Several organizations discussed enabling opportunity. Doing so through self-reliance is the aim of the Suazo Center in its training programs for minority business as Edward Bennett, Suazo's Director of Business Development, explained. Suazo assists all immigrant communities, but most of its clients are Latinos, a demographic with a particularly large wage gap. Mr. Bennet also spoke of the growing importance of the Latino population to the workforce because of its youth.  While whites are, on average, only 9 years older than Latinos, the median age of whites is 58, but for Latinos it's only 11.
The statistics of DEIBA are also a part of Natalie El Deiry's job as the first director of the Office of Immigration and New American Integration, but so is the terminology of inclusion. Ms. El-Deiry says the term "New Americans" is deliberately inclusive because it refers to everyone who is new to America no matter where they are from or how they have come in. She pointed out a challenge for New Americans was developing a sense of belonging, which means feeling accepted, welcome, and part of the community. Utah's manufacturers have helped in this regard: while immigrants make up only 8.4% of Utah's population, they comprise 18.7% of the manufacturing workforce. 
The two chambers of commerce in attendance, the Utah Black Chamber and the Utah Hispanic Chamber of Commerce, rounded out presentations from underrepresented communities. Both groups discussed how they work to go beyond pre-conceived ideas. Marshall Wright of the Black Chamber acknowledged the successes many minority chambers focus on small businesses, but it is now time to grow some of those into medium and large firms. That goal will require greater efforts to expand strategic partnerships. This was echoed by Juan Pascua, Executive Director of the Utah Hispanic Chamber, who stressed the need for alliances in growing Hispanic entrepreneurship. The Hispanic Chamber has helped over 3,500 businesses and currently has over 600 members. 
The corporate presentations in the second half of the roundtable were as varied as the talks in the first. While all the corporate attendees have advanced manufacturing facilities in Utah, their size, scope, and markets differ greatly, which translates into a range of approaches to, and perspectives of, DEIBA. Many presenters shared personal experiences and stated their participation in the roundtable was part of an on-going effort to deepen their understanding of DEIBA.  Attendees heard from small manufacturers, such as DPS Skis with fewer than 50 employees in a single location to Northrup Grumman, a Fortune 500 defense company with 90,000 employees around the globe. 
•    DPS Skis, an innovative outdoor recreation manufacture with less than 50 employees
•    Northrop Grumman, a Fortune 500 defense manufacturer
•    InnoSys, Inc., a micro-electronics and micro-manufacturing company in Salt Lake City with under 25 employees;
•    Advanced Composites Inc., a composites manufacturer in West Valley City specializing in Aerospace and Defense, with a staff of approximately 350 employees;
•    Parker Hannifin, a multinational manufacturer with more than 55,000 worldwide employees;
•    Kihomac, a defense and health care equipment manufacturer of around 250 employees with its largest factory in Layton.
Dr. Jennifer Hsu, founder and owner of InnoSys, discussed her own experience as the only woman on a large engineering team and the times when she felt she didn't belong there. At InnoSys, she has tried to e mindful of belonging  as well as diversity and accessibility. Her firm's needs align well with the skills of those on the autism spectrum and InnoSys has provided several jobs to that community.
Alex Adema, President and CEO of DPS, made the decision for DPS to be more intentional about DEIBA. He was personally motivated by his own family – having daughters made him think about the challenges they face and what opportunities he would like for them. Consequently, he and DPS have taken a fresh look at what issues like inclusion mean and how they can improve in all areas of DEIBA.
Randy Philpot, President of Advanced Composites, pointed out simple things his firm does to foster a sense of inclusion. One is uniforms: with a uniform, you are part of the team, and everyone at Advanced gets a uniform. Nevertheless, Mr. Philpot mentioned that in his company's focus on such issues as inclusion, they must go beyond the simple actions. He said inclusion also means paying attention to the way company actions and communication are interpreted by employees.
The way DEIBA is incorporated into hiring practices was discussed by Nina Morse, Head of Communications at Northrop Grumman's' facility at Hill Air Force Base. At Northrup, interviews for open positions cannot commence until a diverse pool of applications has been gathered. This has improved Northrup's ability to hire from minority pools. The company also has a policy of pay transparency, allowing people to see precisely what pay is being received at different levels. Expanding beyond the hiring rules, Northrup has established employee resource groups for different underrepresented populations. These include Pride, Afro-Americans, Women, and several others.
T.J. Marshall of Parker Hannifin, which has Aerospace and Industrial Polymer production units in Utah, discussed the company's four key pillars of success, one of which is Engaged People. This pillar is measured continually and incorporates DEIBA into such metrics as the Culture of Kaizen, Ownership – Entrepreneurship, and Social Governance.
Kihomac's presentation had both a mix of the corporate and personal experiences that struck many of the participants. Matt Majewski, Kihomac's Vice President of Strategic Markets gave the introduction and then turned the podium over to Katelin Simonson, Human Resources Associate, who covered aspects of Kihomac's policies which are essential to DEIBA. These included a zero-tolerance policy on workforce discrimination and its efforts to enhance belonging with corporate picnics and similar activities. Yet, it was her own experience that she felt demonstrated Kihomac's DEIBA success. She described the sense of belonging she felt because, despite being a young woman relatively new in her job, she had been asked to represent Kihomac at this roundtable. Ms. Simonson also shared how the company's open-door policy means she has been able to call the President and Founder, Ki Ho Kang, and receive as much attention as the firm's experienced male engineers.
During this second half, Tina Hazlett of Spectrum Recruiting Solutions, helped emphasize the importance of DEIBA to prospective workers. She said that because of the tight labor market in Utah, 33% of the candidates her firm recruits are from outside the state. Ms. Hazlett stated that the number one thing these candidates are looking for is flexibility. Utah's outdoor lifestyle and natural beauty are attractive to many potential hires. Nevertheless, she did refer to Drs. Madsen's comments from the first half of the roundtable, telling the audience that Utah's national reputation on women's issues posts hurts the ability to recruit female workers.
All the day's presentations had a great impact on attendees, generating many thoughts and ideas. Several manufacturers expressed gratitude for having been introduced to groups working with underrepresented communities that they had been unaware of. As for the community organizations, they enjoyed being able to expand their profiles, but also saw opportunities to deepen the conversation with the businesses going forward, particularly regarding what is truly meant by each of the components of DEIBA. As one community organization representative said, "I now see that sometimes what a company thinks of as 'inclusion' does not match my interpretation, but I see their willingness to learn and to listen." Dr. Larsen, UAMMI's Executive Director, underscored the need for greater understanding by commenting "An open-door policy is great for accessibility, but if the door is not wide enough for a wheelchair, your accessibility needs to improve." She added that UAMMI will build upon this initial meeting with a follow-up event that encourages discussion among participants starting with definitions and identification of action programs for the Advanced Manufacturing industry to address DEIBA.
Utah Advanced Materials and Manufacturing Initiative (UAMMI),
450 S. Simmons Way, #300, Kaysville,Utah,84037,USA,(801) 871-8148 
KSL.com – Diversity isn't just a catchphrase, it's a crucial part of running a business in today's world. But despite the best of intentions, many businesses struggle to progress past conversations about diversity and inclusion to actually implementing these concepts.
McKinsey & Company, a global consulting firm and think tank, says in their recent 2023 Diversity, Equity and Inclusion report that the amount spent worldwide by companies on diversity, equity and inclusion-related efforts was approximately $7.5 billion and is expected to double to $15.4 billion by 2026. Yet, at the current rate, it will take another 151 years to close the current global economic gender gap.
With that slow progress in mind, there are things your company can do to gain ground on the diversity and inclusion playing field. Here are six benefits that come with upping your inclusion efforts.
Boosted creativity
It's a fact that diverse teams generate better ideas. When a workplace is filled with employees of various genders, ages, races and backgrounds, they each come with a different viewpoint and set of skills. A company will generate the greatest amount of creativity when new voices are heard and employees can share their unique ideas and perspectives.
According to an article published by the University of North Carolina at Pembroke's business school reads, "People who think differently blend perspectives for stronger collaboration, problem-solving and innovation. Differences in thought processes also help to avoid groupthink, which stifles creativity and results in stale ideas." In other words, birds of a feather might flock together, but they probably won't have the freshest ideas.
Happier employees
Dozens of studies have found that employees in inclusive companies have more positive work experiences than those in non-inclusive companies. In an article for the Great Place to Work Institute, Matt Bush writes that when employees trust that they will be treated fairly (regardless of race, gender, sexual orientation or age) they are 9.8 times more likely to look forward to work, 6.3 times more likely to have pride in their work, and 5.4 times more likely to want to stay at their company.
In short, happy employees enjoy their jobs and are more loyal to their employers, so companies will retain more of the talent they worked so hard to hire.
Better problem solving
An oft-overlooked facet of diversity is cognitive diversity. A 2017 study in the Harvard Business Review found that when tasked with problem-solving exercises, even teams that were a diverse mix of genders, ethnicities and ages didn't always fare well.
What mattered, they found, was the cognitive diversity of each team. They found a correlation between the teams who completed the challenge fastest and the level of cognitive diversity among team members. Study authors Alison Reynolds and David Lewis concluded, "A high degree of cognitive diversity could generate accelerated learning and performance in the face of new, uncertain and complex situations."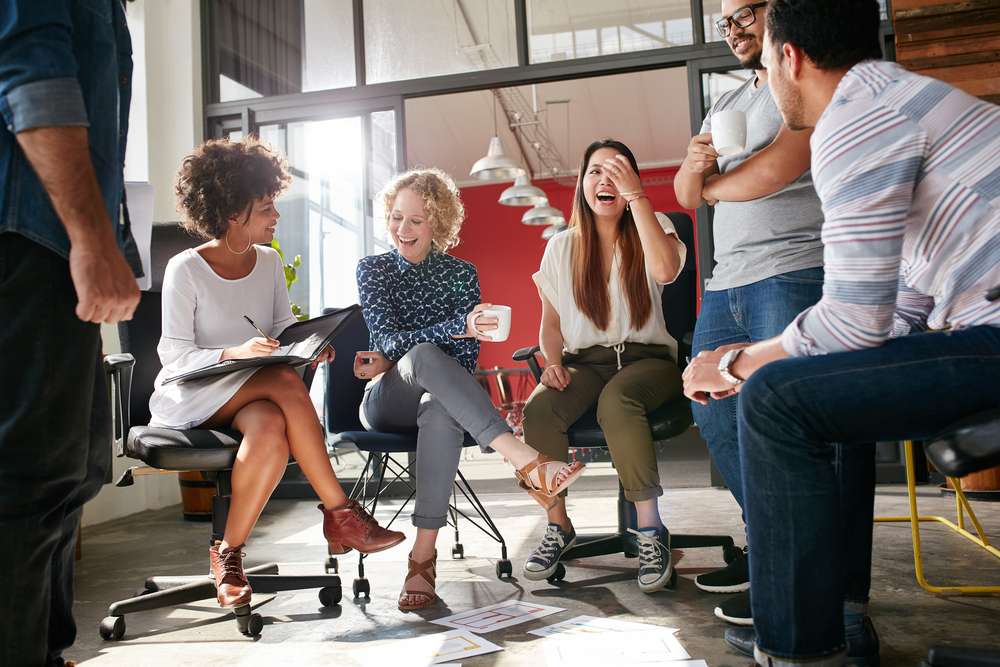 Improved team performance
Diverse teams work better together and get more results. Like the Harvard study where cognitively diverse teams solved challenges faster, Harvard Business Review found diverse teams make fewer factual errors. Another study published in Innovation found diverse work teams also introduce more innovations.
Higher revenue
If your bottom line is simply increasing the bottom line (it is business, after all) then there's good news for you. The largest incentive for many companies is the cold, hard fact that improving diversity is directly correlated with increased profitability.
Companies in the top quartile for both gender diversity and ethnic/cultural diversity were shown in McKinsey & Company studies to be 21% and 33%, respectively, more likely to outperform their peers on profitability. It's a complex topic that comes down to more diversity equating to higher profits.
It's the right thing to do
Regardless of the industry you are in, chances are your potential customers and employees are a mix of ages, genders, races, faiths and sexual orientations. Becoming more inclusive isn't just good business, it's the best way to run an organization where everyone feels respected. Celebrating differences should be a core value rather than a set of policies and procedures.
Salt Lake Chamber's Diversity & Inclusion Leadership Training Series
The Salt Lake Chamber's upcoming Diversity & Inclusion Leadership Training Series can help businesses learn the benefits of diversity and inclusion and develop a strategic plan to implement. The Chamber's three-month-long spring cohort will take a group of up to 30 local professionals through training aimed at providing tools and practices needed to make a significant impact on the diversity of Utah's business landscape.
The classes will take place biweekly from March 22 until May 31. Scholarships are available to offset the total cost of the program, so all accepted applicants are guaranteed the scholarship pricing of $299. Local professionals whose roles include overseeing diversity and inclusion are invited to apply for the program until the March 17 deadline.

UAMMI
The Utah Women & Leadership Project and the Governor's Office of Economic Opportunity have created an inspiring initiative to identify and highlight 100 Utah companies that champion women. By supporting employees through education, family-friendly benefits, policies, or programs that advance women, these companies have created an environment where women can thrive. This episode highlights Utah Advanced Manufacturing Materials Initiative (UAMMI), which is a non-profit with the mission to elevate advanced manufacturing in Utah. Dr. Susan Madsen, Founding Director of the Utah Women & Leadership Project, is joined by Dr. Tulinda Larsen, Executive Director; Cathy Blomquist, Member Services Manager; and KC Sanders, Director of Community Outreach and Workforce Solutions with UAMMI
Susan R. Madsen, "I enjoyed chatting with Tulinda Larsen, Cathy Blomquist, and KC Sanders at UAMMI about their family-friendly benefits, policies, and programs for employees. They are a small organization and offer some great ideas of what you can do even as a small entity for your employees. Listen in!"
UAMMI Continues DEIBA Conversation
On March 7 the Utah Advanced Manufacturing and Materials Initiative (UAMMI) hosted its second roundtable on Diversity, Equity, Inclusivity, Belonging and Accessibility (DEIBA), following the successful kickoff of the series in January. This most recent installment, "Opening the Dialogue" was a virtual event with 78 attendees. The initial roundtable helped indicate the importance of defining each of the constituent terms in the DEIBA acronym so that all parties have a common understanding. Providing and discussing these definitions was thus the focus of this second Roundtable.
UAMMI Executive Director Dr. Tulinda Larsen started off the afternoon's session by acknowledging that efforts in DEIBA involve a process of learning and that this is especially important because there are "no clear baseline metrics" regarding DEIBA in Utah, nor at the national level. To begin to establish those metrics, not only did Dr. Larsen feel we need to understand definitions, but that communities would benefit from understanding companies' and vendors' DEIBA requirements.
Dr. Larsen provided a helpful analogy on DEIBA that she had encountered to kick off the discussion. Think of the patrons of library or bookstore and what DEIBA would mean for them. Although the example does not cover "Inclusion", it mentions "Equality" which a term people often conflate with "Equity", so it's important to understand the difference. Here is how the library matches the criteria:
Equality is everyone getting a book;
Diversity is everyone getting a different type of book;
Equity is everyone getting a book that fits;
Acceptance is understanding that we all read different types of books;
Belonging is reading the book you want without fear of judgment.
These definitions were further explored by speakers from different entities in the community examined each of the key definitions in depth, but prior to that the Roundtable heard a presentation from Michelle Burris, a Fellow at the Century Foundation, which is a progressive, independent think tank, that conducts research, develops solutions, and drives policy change to make people's lives better. Ms. Burris's work focuses on racial and gender equality in workforce development, especially regarding manufacturing. She shared information from the National Learning Cohort on Industry and Inclusion and the implications for DEIBA.
Ms. Burris highlighted a challenge in manufacturing nationally stemming from an overall lack of the of diversity overall and within its job sectors: whites comprise just over 65% of all manufacturing jobs and men make up 69.4% of the manufacturing workforce. People of color who work in manufacturing find themselves at the lower end of the overall pay scale, in part because whites in manufacturing are three times more likely to be in management than those brown or black individuals. Despite the challenge, the Century Foundation has seen this as an opportunity, recognizing the "need for intentional commitment to recruit a more diverse workforce." This is reflected in the Foundation's visions which incorporates many key DEIBA terms: "An industrial sector defined by good jobs and powered by an inclusive workforce that represents the full range of diversity in the United States and provides equitable access to employment opportunities."
To realize this vision, Ms. Burris explained that the Century Foundation created an Industry Inclusion Cohort comprising several community colleges throughout the country. The Cohort has developed an Impactful Credentialing Model which fosters culturally competent instruction to train a viable workforce. The 2022-23 cohort consist of twelve community colleges, a set of institutions that Ms. Burris says are instrumental in connecting and educating a non-traditional workforce with manufacturing.
Following, Ms. Burris's presentation, the in-depth discussion of DEIBA definitions began. "Diversity" was examined by Aniza Brown and Jess Ress of Catalyst Campus. The discussion on "Equity" was led by Dr. Sidni Shorter and Marshall Wright of the Utah Black Chamber of Commerce. Edward Bennett of the Suazo Business Center addressed "Inclusion" while Mindy Young of Equality Now discussed "Belonging". To round the discussion of definitions, Kristy Chamber of the Columbus Agency considered "Accessibility". Following these discussions, Dr. Angela Trego, UAMMI's Diversity, Inclusion and Belonging Specialist shared her thoughts on how, with a common understanding of definitions, we can move forward.
For the team from Catalyst Campus, "Diversity" means "having a range of people with various racial ethnic, socioeconomic, and cultural backgrounds, and various lifestyles, experiences, and interests." Jessica Ress explained that there several benefits from incorporating diversity into a company's workforce have been recorded. These include more creative problem solving, smarter decision making, increased profitability and productivity, decreased employee turnover, and improved company reputation. The team recommended some best practices for leadership in managing diversity:
Be fair
Value everyone equality
Promote opportunities for career advancement
Educate the workforce on diversity
Support workforce collaboration
Offer flexibility and support all beliefs equally
"Equity" was the topic address by Dr. Sidni Shorter and Marshall Wright of the Utah Black Chamber. Mr. Wright helped distinguish equity from equality by explaining that "At birth we're all equal; we are unequal by the time we get to the workforce." Equity is a means of managing the fact that not all things fit all people. Mr. Wright explained that, in the Chamber's work, equity is associated with under-represented people and what their needs are to start businesses and be successful. Equity, in his experience, has to be driven from the top and requires trust, commitment from the executive staff, an intentionality focused on equitable mobility and advancement. He advised that programs have to change over time, as needs change over time, and that equity plans are printed out. Mr. Wright stressed the importance of ensuring different groups are not put in competition with others – collaboration is the goal. He cited Northrop Grumman (which has a female CEO, Kathy Warden) as a good example of a company with a large Utah presence practicing equity.
Dr. Shorter provided a succinct way to think of the major DEIBA components. She told the roundtable that "Diversity is a fact, Equity is a choice, Inclusion is an action, and Belonging is an outcome (of the action)." With that in mind, Dr. Shorter felt it was helpful to provide a business-oriented understanding of equity, stating that "A company focusing on equity is providing fair opportunities for all employees, but the types of opportunities may vary." She elaborated by saying that an organization can show equity by recognizing it as a reality and fostering open discussion, creating space for the conversation.
The Suazo Business Center's Edward Bennett led a thought-provoking discussion of "Inclusion", suggesting that the community at the roundtable "define our own approach". Echoing Dr. Shorter's comments, he said that "to be inclusive is to be active". Mr. Bennett also stated that the approach "must acknowledge that all individuals matter." The history of inclusion is really one of exclusion, Mr. Bennett told the Roundtable. He shared a graphic tool to help understand the ways people have tried to incorporate other ideas. For example, with "integration", a dominant group or ideology maintains precedence even if it allows another group in, but that is not true inclusivity. Inclusion, Mr. Bennett explained, doesn't really require anything except listening.
Mindy Young from Equality Utah spoke to the Roundtable about "Belonging". Rather that a specific definition for the business and workforce world, she suggested thinking of ourselves
and others as allies to achieve the goal of belonging: "You show up for me, I show up for you." Ms. Young provided a valuable example of how belonging can be lacking, despite worthy efforts, mentioning her experience when a white male over 40 said that he did not feel "there was any room him in DEIBA discussions." Her point was that even as we become more diverse, everyone belongs but it takes effort to foster that belonging. To do that, she recommends business leaders
Rounding out the definitions of DEIBA topics was Kristy Chambers of Columbus Community Center, covering "Accessibility". Her organization uses a very succinct definition, "enabling access to facilities including thru the use of technology." While the Columbus Community Center focuses on persons with disabilities and those on the autism spectrum, Ms. Chambers iterated that when enabling access, businesses can target specific groups (such as the disabled), but that the concept can be applied to a much wider population. Accessibility for the disabled has increased recently, especially in Utah because of low overall unemployment. Consequently, as businesses have struggled to find workers, they have become more willing to adapt. Fortunately, as they have done so, they are realizing the benefits of the approach and are continuing to embrace accessibility. For those with "invisible" challenges, such as autism or homelessness, accessibility is sometimes harder (for example, they may rely on public transportation which can have schedule implications), but Ms. Chambers advises that by creating a workplace of trust, it enables work to feel more comfortable discussing accessibility needs.
Some of Ms. Chambers' additional recommendations for business include:
Using skills-based interviews as it helps balance against soft-skills assessments where some people, such as those on the autism spectrum, may not perform well;
Ensuring that C-Suite members embrace accessibility and endorse it as important;
Encouraging self-advocacy, again through trust, so that workforce members can feel comfortable addressing accessibility issues that many not be evident.
Following these very informative sessions on definitions, Dr. Larsen asked if any members of the business community had issues based on what was presented that they wanted to share. Megen Ralphs of Align, a defense manufacturer in Cedar City, discussed her rapidly changing workforce. Essentially, as their workforce as aging, Align is experiencing a loss of a very experienced workforce as a younger, but inexperienced cohort comes in. The latter brings more diversity, but there is a challenge in ensuring that as that happens the culture fosters collaboration between the two groups, especially so that valuable knowledge is transferred. Meanwhile, Marshall Hagen, Sales and Business Development Manager at (and a UAMMI board member) stated that he thinks that for his firm to enhance DEIBA generally, but diversity in particular, the firm is looking at where they hire. Sandra Brown, of Living and Aging with Pride would like to see more about aging and inclusion of older adults in overall DEIBA discussions.
Dr. Angela Trego, UAMMI's Diversity, Equity and Inclusion specialist, was then asked to help the Roundtable participants take the day's learning and guide them towards next steps. Her first recommendation is that, now that definitions were understood, participants should think about metrics around these, how to measure the different components of DEIBA. Secondly, decision-makers can turn the definitions into actions.
The UAMMI team is already planning its third roundtable in the DEIBA series and will announce the date soon. Dr. Larsen stated that the session will specifically provide DEIBA organizations with ways to create awareness and understanding of workforce and supplier requirements with advanced manufacturing companies.
UAMMI 3rd DEIBA Roundtable Discussion: Ways Organizations Representing DEIBA Community Can Best Communicate with Advanced Manufacturing Companies
Dr. Angela Trego Presentation 
Martin Moore Presentation